Bitumen Testing
Our range of products includes :
Marshall Stability Testing Machine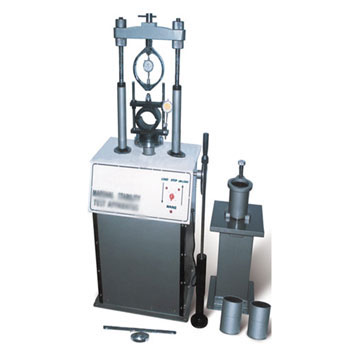 The test is applicable to hot mix designs using bitumen and aggregates upto a maximum size of 25mm. In this method, the resistance to plastic deformation of cylindrical specimen of bitumenous mixture is measured when the same is loaded at periphery at 5 cm per min. This test procedure is used in designing and evaluating bituminous paving mixes. The test procedure is extensively used in routine test programmes for paving jobs. There are two major features of the Marshall method of designing mixes namely, a) Density - voids analysis b) Stability - flow tests. The marshall stability of mix is defined as a maximum load carried by a compacted specimen at a standard test temperature of 60ºC. The flow value is deformation the marshall test specimen under goes during the loading upto the maximum load, 0.25 mm units. In this test and attempt is made to determine optimum binder content for the type of aggregate mix and traffic intensity. The apparatus consists of :
A loading unit motorized, capacity 5000kgf with two telescopic pillars and an adjustable cross head. Limit switches are fitted inside to control upward or downward movement of the pillars. On-off reversing switch and indicator lamps are on the front side while a hand wheel to manually move the pillars is on the right. The load frame has fixed speed of 5.08cm per minute. Operated on 230 Volts A.C
1 No. Compaction pedal with specimen mould holder
2 Nos. Compaction Rammers, 4.5kg weight and free fall 45.7cm.
1 No. Breaking head assembly with provision to fix flowmeter
3 Nos. Specimen mould 10.16cm I.D. x 7.6cm high with base plate and extension collar.
1 No. Kit for specimen extraction, consists of one each load transfer bar, steel ball, specimen extracting plate.
Bitumen Automatic Compactors
Capitalizing in our in-depth industry knowledge, we have been able to provide the customers with highly advanced Bitumen Automatic Compactors. Offered array is manufactured under the strict supervision of expert professionals by employing high grade raw material and advanced techniques.
Widely acknowledged for eliminating labor required in manual compaction, the range is works in the following manner:
Provided with a driven mechanism for lifting weights of 4.5 kg
This weight is dropped through a height of 457 mm
Thereafter, hammer foot is removed for facilitating preheating
Compaction pedestal equipped with specimen holders fixed to the base of the apparatus for stopping the machine on the completion of operation
An automatic blow counter to allow number of blows to be present before each test
Suitable for operation on 230 V, 50 Hz, single phase and A.C. supply
Core Drilling Machine
Suitable to cut / drill cores of concrete, rocks, stones, Tiles or the similar material. The machine is suitable for care samples of size upto 150mm diameter with the help of thin walled diamond bits which are at extra cost. The machine has sturdy base with pillar support in which rack & pinion is provided for adjustment in height and penetration assembly. The leveling screws are at the base. For gripping the damply in positions suitable grips are provided. A suitable electric motor, standard make is fitted in the machine with cooling arrangement with water. The base frame is also fitted with wheels for ease of transportation.
Salient Features
Dimension approx. are as under :
Height : 1300mm
Base : 600 x 1200mm
Head travel on rack : 350mm
Drill Speeds : 900 RPM for soft samples and 350RPM for hard samples.
Water Swivel : Built in the machines.
Suitable for 230 volts AC, single phase
Accessories : 1. Thin wall diamond bits 2. Core Barrel.
Ductility Testing Machine
In flexible pavement construction, bitumen binders are used. It is important that bituminous material forms ductile thin film around the aggregates, Which serves as a binder. The binder material not of sufficient ductility render spervious pavement surface and leads to development of cracks. Therefore it is important to carry out the ductility tests on bituminous material. Ductility is defined as distance in cms to which a standard briquette of bitumen can be stretched before the thread breaks. The briquette is stretched at a rate of 50mm/minute ±25mm per minute at a temperature of 27ºC ± 0.5ºC.
Salient Features:
The apparatus consists of a water bath with a thermostatic heater, and a circulating pump to maintain uniform water temperature.
One half of the briquette molds is fixed on a fixed plate in the water bath, the other half of the briquette mold is fixed to a carrier which slides over a rotating threaded shaft with a clutch.
The motor and gears to rotate the shaft are housed in a cabinet fixed above the other end of the bath.
A pointer fixed to the carrier moves over a scale graduated from 0-110 cm x 1mm fixed on the bath with "0" (zero) of the scale towards the fixed plate side.
The rotating shaft has 2 speeds of travel for the bracket, 5cm/min and 1 cm/min., selected by a clutch. Water bath inside is aluminum, it is an insulated water bath. Water bath is provided with a drain. A heater with thermostatic control is fixed inside the water bath. Control switches for motor, stirrer, heater and indicator lamps are fixed at a convenient place on the water bath, complete with three briquette molds and one base plate, all made of brass. Operates on 230 volts A.C. single phase.
Accessories :
Thermometer IP 38 C, range 23ºC to 27ºC.
Ductility mould with base-plate.
Planetary Mixer
This Equipment is to speed up the process with ease and accuracy to prepare cylindrical specimens for Marshal Stability Testing Machine. The mix is uniformly heated and mixed to yield homogenous mix and better moulds for testing. The same mixer without heating jacket and some modifications can also be used for mixing of soil, cement paste, mortars, pozzolanas etc.
Electrically operated, fitted with heating jacket for thorough mixing of Bitumen. The mixer is operated by 0.5 HP single phase electric motor connected to epicyclic type stainless steel paddle to impart both planetary and revolving motion for uniform mixing. Mixer blade has low speed of 140 + 5 rpm and medium speed of 285 + 10 rpm, while it also has a planetary movement of 62 + 5 rpm in low range and planetary movement of 125 + 10 rpm in medium range. A stainless steel bowl of approx. 5 ltr capacity with handle is also supplied. The 500 Watts heating jacket with energy regulator to control the temp. is fitted below the bowl. Complete unit is supported on a strong iron frame. Suitable to work on 220V, 50 Hz, AC single phase.
Asbestos Hand Gloves
Transfer Tray
Stainless Steel Scoop
Bitumen Extractor Electrically Operated
The Centrifuge Extractors are used for determination of bitumen percentage in hot mixed paving mixtures and pavement samples. The mix is added with a solvent and dissolved bitumen is removed by centrifugal action. The Extractors are available in two versions, Hand operated and motorised electrically driven.
General Description & Specifications
Hand driven
The Centrifuge Extractor comprises of a precision machine rotor bowl and bowl cover housed in a cylindrical aluminum box. A knurled nut is provided to press filter paper disc between the rotor bowl and cover plate and the complete bowl assembly is removable for determination of weight of sample. The bowl assembly is mounted on a vertical shaft, which comes out from a casted housing. The shaft attached to the bowl is rotated manually by a handle. The gears operate in a casted housing in oil bath with splash lubrication. A drain is provided to collect dissolved bitumen coming out from the rotating bowl. The range of speed is 2400 - 3600 RPM. The bowl capacity is 1.5 Liter
Motorised electrically driven
The motorised version is provided with a variable speed control device and a hand brake to stop rotation when switched off. The electric motor is of 0.25 HP capacity coupled to a geared assembly. Suitable for operation on 230 Volts, 50 Hz, AC single phase.
Recommended Accessories & Consumbles
The following accessories and consumables are not part of the standard supply and are mandatory for the testing work
Bitumen Extractor-Hand Operated
This instrument is used for determination and checking of bitumen percentage in bituminous mix, the mix is added with a solvent and dissolved bitumen is removed by centrifugal action. Consists of a removable aluminum rotor bowl, capacity 1500 gms. This shaft and thus the bowl is rotated fast manually by enclosed gears in the cast body and handle. Solvent is introduced during the test through the holes in the cap of the housing. A drain is provided to collect dissolved bitumen coming out of the rotating bowl and getting collected in the housing.
Salient Features
Centrifuge Extractor (Motorized) :
Same as above but shaft is rotated by an electric motor and gear. Care is taken to prevent solvent entering into the rotor of electrical motor. Operates on 230 Volts A.C. single phase.
Accessories :
Filter paper disc (packet of 100nos.)
Benzene
Ring and Ball Apparatus
This apparatus is used to determine softening point of bitumen. Ring and ball apparatus is used to determine softening point. It is that temperature at which a sample of bituminous material loaded by a 9.5mm dia steel ball drops at a distance of 25mm.
Salient Features
The apparatus consists of steel bracket with a sliding plate support.
The support has two holes of 10mm dia on which a Ring and Ball guide can be kept.
A central hole on this plate is for inserting thermometer. Supplied with a glass beaker approximate 8.5cm. I.D., 12cm high and a hand stirrer and 2 nos. 9.5mm dia steel balls.
Ring And Ball Apparatus (Electrical) :
Same as above but supplied with a thermostatic hot plate. suitable for operation of 230 V A.C.
Accessories :
Thermometer IP 60C range 2ºC to 80ºC
Thermometer IP 61C range 30ºC to 300ºC x 5ºC.
Electrical Stirrer with stand & blades to gently stir water in the beaker.
Suitable for operation on 230V AC
Standard Penetrometer
Used to determine grade of bitumen. The penetration tests determine consistency of bitumen for the purpose of grading. Depth in units 1/10 of millimeter to which a standard needle having a standard weight will penetrate vertically in a duration of five seconds at a temperature of 25ºC determines penetration for gradation.
Salient Features
Specifications : It consists of a vertical pillar mounted on a base provided with leveling screws. The head, together with dial plunger rod and cone (or needle) slides on a pillar and can be clamped at any desired height. A rack & pinion and pointer assemble provides fine adjustment of needle or cone tip to sample. It incorporates a clutch mechanism which makes reading of penetration and subsequent resetting a simple and accurate operation. The dial is graduated in 400 1/10 and the millimeter sub-divisions and the needle pointer against figures makes easy reading. Supplied with bitumen penetration needle, ring weight one each 50 gms, and two sample container.
Accessories : Penetration cone for empirical estimation of penetration of lubricating grease, petroleum jelly etc.
Automatic Standard Penetrometer : Same as above but supplied with transistorized timer and Electro magnet incorporated in the clutch mechanism to accurately control penetration time to exact five seconds.
Tar Viscometer
Viscosity is the property of the fluid by which it resist flow due to internal friction. Used for determining viscosity of cut - back bitumen and road oil. Viscosity is measured by determining the time taken by 50 cc of the material to flow from a cup through a specified orifice.
The apparatus consist of bath with cup of 10 mm or 4 mm orifice and sleeve stirrer with ball lifting clip and ball .The bath is fitted with an immersion heater to take the water to the required temperature and a drain valve. The temperature is controlled by energy regulator or voltage varrier.(extra cost) The assembly is kept on suitable stand with leveling screws. Suitable to operate on 220 V.50 Hz, AC single phase.
The following accessories and consumables are not part of the standard supply and are mandatory for the testing work
Thermometer IP 8C/9C/10C
Spare silver plated orifice cup 4mm.
Measuring Cylinder 100 ml.
Stop Watch Mechanical/Digital
Solvent (Benzene/Toluene)for cleaning
The Tar Viscometer is also available for multiple test - fitted with Digital Temperature indicator cum controller and FHP electric stirrer. Supplied with Tar Cups of 10 mm and 4 mm orifice with valves.
Technical Description
Determining the Viscosity of cut back Bitumen and road oil. It consists bath with cup of 10mm or 4mm erific and sleeve stirrer with ball lifting clip and ball. The assembly is kept on suitable stand with leveling screws. Suitable to operate on 220 Volts AC mains.
Electric heated (without control)
Electric heated with separate energy regulator control.
Electric heated with solid state electronic regulator.
Electric heated with voltage varric copper coil type.
Electric Heated with digital temperature controller cum indicator.
Multiple Tar Viscometer for 6 test cups with thermostat control & FHP electric motor stirrer.
Multiple Tar Viscometer for 6 test cups Apparatus with digital temprature controller cum indicator & FHP electric motor stirrer.
Optional Accessories :
Spare silver plated orifice cup 10 mm or 4 mm.
Flask receiver 100 ml capacity.
Polished carrying wooden case.
Thermometer 8C.
Saybolt Viscometer
Made as per ASTMD-88 specification with Universal and Furol Jets made of Stainless Steel. Stirring is done by hand with turn table arrangement (without strainer,withdrawal Tube and Glass Wares). Suitable to operate on 220 Volts AC mains. Elect. Heating 00th Energy Regulator Control Elect Heating the Copper Coil Voltage Varrier Two Say bolt Tubes Viscometer Elect. Heating with Control Panel (Double Walled) with Digital Electronic Controller and F.H.P Stirrer.
Specifications:
Strainer for filtering oil
Withdraw! Tube (Metal)
Spare Cup without jets
Spare jet universal
Spare Jet furol
Flask 6000
ASTM 17C Range 19 to 270C 00C Thermometer ASTM 18C Range 3400 420C Thermometer ASTM 19C Range 49 to 570C Thermometer ASTM 20C Range 67 to 650C Thermometer
Technical Description
Saybolt Viscometer is used for determining the Viscosity of Fuel Oil and Lubricating Oil both thin & thick.
Saybolt Viscometer consists of:-
Stainless Steel bath with oil cup which is centrally placed in a water bath.
The bath has a lid which contains a Water Cooling Tube
Two handle with Two Stirrer Blades
Thermometer socket
Straight heater
Stirring is done by Turntable Arrangement.
A thermometer can also be inserted into the cup cover. The Jets, One Universal and One Furol can be screwed to the cup by a handle(without strainer, withdrawal tube and glasswares) can operate on 220 Volts AC mains.
Benkelman Beam
This device was developed by U.S. Bureau of Public Roads and is used timesaver deflections of flexible pavements. The light weight instrument is supplied in two parts for assembling on site with easy hand tools. In use one end of the beam rests at a point under investigation while the beam is pivoted at the centre. The free end carries a dial gauge to record the deflections. The other end is kept on a stable platform. The beam ratio is 2:1 which magnifies even small deflections. Supplied with a dial gauge 0.01 x 25mm. This is a light weight dismount liable instrument and easy to carry.
Benkelman Beam Test Apparatus
Team of our skilled professionals is highly engaged in offering wide gamut of Benkelman Beam Test Apparatus. This apparatus is designed using superior quality material and sophisticated technology, under the strict supervision of our experts. Our offered apparatus is tested on various stages as per the set industrial norms. It is widely used as a engineering tool in number of engineering laboratories. Clients can avail this apparatus from us in various customized shapes and designs as per their necessities.
Features:
Sturdiness
Reliable
Correct measurement
Thin Film Oven
Oven is designed to determine the the effect of heat & air on asphaltic materials (thin film test).

The unit is heavily insulated & has a double glass built in door for view inside temperature is controlled at 163'deg C #1'deg C. by means of a calibrated PID based DIGITAL TEMP. INDICATOR CONTROLLER.. inside platform rotated by external motor from 5 to 6 R.P.M. & 2 stainless steel pans are also provided to hold cups. (supplied without cups). Inner chamber made of stainless steel sheet of 304 grade & outer of mild steel sheet stoving painted. To work on 230 volts, AC 50 Hz supply.
Kinematic Viscosity Bath
Used for determination of Kinematic and intrinsic viscosity of fuels, lubricants & petrochem raw materials at constant temperatures in accordance with ASTM D 445 and other equivalent methods. Available in two versions, to work at above ambient temperature and below ambient temperature.

Double walled, outer chamber made of G.I. - powder coated, with removable toughened Glass window panel, inner chamber made of S. S, FHP motorised stirrer for uniform temperature, Dual Display Microprocessor Based Digital Temp. Controller with PT-100 sensor. Temperature range from 5° C above ambient to 100° C., Control accuracy ± 0.1°C. Below ambient Viscosity Baths are fitted with Refrigeration system (Temperature Range : 10°C to 100°C). The Baths can accommodate 2 / 4 / 8 Viscometers with varying tank volumes.
Stainless steel bath
Temperature controller (Thermostatic/Digital)
Immersion electric heater
Constant speed Pump cum stirrer
Electric motor with gear mechanism
Stainless steel scale and pointer
Control Panel
The viscometer is made of clear borosilicate glass free from visible defects. All glass tubing used in the construction of a single viscometer is of the same composition and the finished instrument is thoroughly annealed. The design and details of the viscometer are given at side. The size, approximate constant and Kinematic Viscosity is as per table.
| | | |
| --- | --- | --- |
| Size No. | App. Const (cSt/s) | Kin. Viscosity Range (cSt) |
| 4 | 0.1 | 6 to 100 |
| 5 | 0.3 | 18 to 300 |
| 6 | 1.0 | 60 to 1000 |
| 7 | 3.0 | 180 to 3000 |
| 8 | 10 | 600 to 10000 |
| 9 | 30 | 1800 to 30000 |
| 10 | 100 | 6000 to 100000 |
| 11 | 300 | 18000 to 300000 |
For opaque and transparent liquids : detailed drawings of the reverse flow 'Cannon-Fenske' viscometer is given in the figure. The size, approximate constant and kinematic viscosity range, is given in the table.
Straight Edge Machine
With firm commitment towards offering a peerless quality range to patrons, we bring forth an outstanding range of Straight Edge Machine. These edges are manufactured with modern machinery and technologies that are outfitted at our unit and are manned by our team of adroit professionals. Thus, our team makes sure to follow industry standards & norms that are strictly followed to serve patrons in a better and organized manner. With this, customers can avail our range in diverse sizes and grades at the most competitive prices within the stipulated time frame.
Some features are:
Light weight
Efficient performance
Excellent resistant to corrosion
Smooth surfacing
Compact designs
Vaccum Pump : SINGLE STAGE :-
Complete with base, motor, pulley and belt. The pump mechanism is contained in a metal case with oil level and drain plug at base. Pump speed 450 RPM. Ultimate vacuum 0.01 mm/Hg. ( Single stage). Complete with non-return valve, belt gauge and vacuum gauge with regulator. VACCUM PUMP : DOUBLE STAGE :- Complete with base, motor, pulley and belt. The pump mechanism is contained in a metal case with oil level and drain plug at base. Pump speed 450 RPM. Ultimate vacuum 0.005 mm/Hg. (Double stage). Complete with non-return valve, belt gauge and vacuum gauge with regulator. VACCUM PUMP : OIL FREE :Light weight portable, die cast aluminum components keep overall minimal oil less construction of diaphragm NEVER REQUIRE LUBRICATION, PERMANENTLY lubricated ball bearings, low noise level. balanced eccentrics provided smooth low vibration free operation, Built in micro air filter. continuously rated with built in rugged motor....
CONSTANT TEMPRATURE WATER BATH
Used to maintain in water the Marshal specimens to be tested at 600 + 10C (Asphalt specimens) or 37.8 + 10C (Tar Specimens) as prescribed by the specifications. The same Waterbath can also be used for penetration test, stripping test or even soundness test of cement with the use of additional accessories.

Rectangular, Double walled construction. Inner Chamber made of stainless steel and outer body made of mild steel duly powder coated. Temperature Range 50C above ambient to 990C. Fitted with immersion type heater, Digital Temperature Controller cum Indicator accuracy + 0.50C. Operating on 230V AC. Fitted with circular pump with stirrer.
| | |
| --- | --- |
| Size in cm | Ratting Watts |
| 12" x 10" x 8" | 1.5 |
| 18" x 12" x 10" | 2.0 |
| 18" x 14" x 12" | 2.5 |
U Tube Viscometer
We are specialize in making U tube Viscometer, Reverse flow viscometer, canon fenskea viscometer for transparent liquid, Canon Fenskea viscometer for opaque liquid, Suspended level Type with or without calibration certificate.
Pensky Marten Flash Point Apparatus
This is widely used for determination for closed cup Flash Point of Fuel Oil, cut back asphalts, other viscous material and suspension of solids having a flash point above 490C (1200F).

This apparatus is made as per IP 34. ASTM D-93 and IS 1209-1978 method B. The apparatus consists of brass test cup with handle, removable cup cover with spring operated rotating shutter having Oil Test Jet/Gas Test Jet Flame Device. Stirrer with flexible shaft. The assembly rests in air bath, which is covered, with dome shape metal top. The cup is fitted with insulated handle and locking arrangement near cup flange. The assembly is kept on round shaped electric heater with Energy regulator temperature control. Suitable for operation on 220 Volts 50 cycles AC .

The following accessories are not part of the standard supply and supplied at an extra cost.


Open clip for converting Close model to open cup test model as per IP 35.
IP 15C Low Range (-7-1100C x 0.50C) thermometer
IP 16C High Range (900C - 3700C x 20C) thermometer
Electric FHP motor with stirrer (in place of hand stirring)
Voltage varrier temp. controller with digital temperature indicator.
Specific Gravity Bottle
Specific Gravity Bottle with stopper of 50ml capacity, which is available in two patterns:

A. The ordinary capillary type specific gravity bottle with a neck of 6mm diameter.

B. The wide mouthed capillary type specific gravity bottle with a neck of 25mm diameter.

The ordinary specific gravity bottle is used for materials which remain absolutely fluid at 270C while the wide mouth capillary type is used for materials which remain semisolid of high viscous at 270C.