Soil Testing
Our range of products includes :
PROCTOR COMACTION TEST
As Per IS : 10074 - 1982 & 2720 (PART-VII) - 1980.

Compaction test is used to determine the Optimum Moisture Contents (O.M.C.) and Maximum Dry Density (M.D.D.) of Soils.

PROCTOR COMPACTION TEST APPARATUS - STANDARD.

Consists of the followings :

SPCM-MS. STANDARD PROCTOR COMPACTION MOULD. 1000cc. M.S.

Made of Mild Steel. Dia : 100 mm; Height : 127.3 mm; Volume : 1000 cc. Complete with base plate and collar.

RAM-2.6K. RAMMERS - SOIL COMPACTION. 2.60 Kg.

Weight : 2.6 Kg; Controlled Drop : 310 mm.

PROCTOR COMPACTION TEST APPARATUS - MODIFIED / HEAVY.

Consists of the followings :

MPCM-MS. MODIFIED PROCTOR COMPACTION MOULD. 2250 cc. M.S.

Made of Mild Steel. Dia : 150 mm; Height : 127.3 mm; Volume : 2250 cc. Complete with base plate and collar.

RAM-4.89K. RAMMERS - SOIL COMPACTION. 4.89 Kg.

Weight : 4.89 Kg; Controlled Drop : 410 mm.
Sand Pouring Cylinder
Sand Pouring Cylinder

SAND REPLACEMENT METHOD: Three sizes Available.


10cm (Small Size)
15cm (Medium Size)
20cm (Large Size)
01) 10cm (Small Size):- Sand Replacement Method. Consists of Sand Pouring Cylinder, one calibrating container 10 cm dia & a square tray of 30 cm x 30 cm with a central hole of 10 cm diameter. Relevant Standard : IS : 2720(Part-XXVIII)
02) 15cm (Medium Size): Sand Replacement Method. Consisting of Sand Pouring Cylinder container metal tray hole in the centre.
03) 20cm (Large Size): Sand Replacement Method. With calibrating container of 250mm internal depth, one metal tray 450 mm square and 50 mm deep with a 200 mm dia hole in the centre.
Rapid Moisture Meter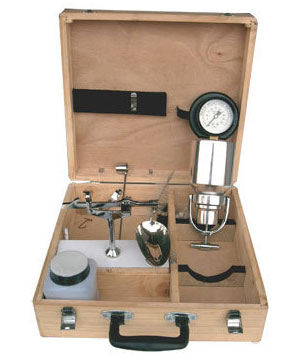 Advanced technocracy inc. Is manufacturer, exporter & supplier of Rapid Moisture Meter

For quick determination of moisture contents of material s in powder form I.e. soil, sand. coal, pottery, gannister, cement etc. A weighed quantity of the substance under test Is placed in the body of the tester together with a measured quantity of absorbent and the tester is then sealed and shaken vigorously thereby bringing the sample and the absorbent into intimate contact. The pressure of gas liberated by interaction of moisture in the sample and absorbent actuates the gauge which is directly graduated in percentage moisture on the wet weight basis. the weight. A conversion chart Is provided for converting percentage moisture content on the weight basis to percentage on the dry weight basis. The Unit consists of pressure vessel with clamp for sealing cap rubber sealing gasket, gauge calibrated in percentage moisture content to 25% on the wet weight basis, counter poised balance for weighing sample, scoop for measuring carbide reagent, bottle of reagent, cleaning brush. Complete in wooden carrying case with handle. The Unit can be used to determine percentage moisture contents on the wet weight bases upto 25% which Is equal to 33.3% moisture contents on the dry weight basis. B) Rapid Moisture Meter same as No. 305 but dial gauge is calibrated In percentage moisture content to 50% on the wet weight basis which is equal to 100% moisture content on the dry weight basis


Core Cutter
The core cutter is driven into the soil using the driving hammer. Then the core is dug out, trimmed, weighed, dried and the density and moisture content calculated. Made of steel protected against corrosion. The set includes core cutter, driving dolly and driving rammer. Two versions available: dia. 100x 130 mm high and dia. 150x180 mm core.
| | | |
| --- | --- | --- |
| Description | Model 100 mm dia. 35-T0137 | Model 150 mm dia.35-T0138 |
| Core cutter(weight) | 35-T0137/1 (1 kg) | 35-T0138/1 (4.5 kg) |
| Driving dolly (weight) | 35-T0137/2 (1 kg) | 35-T0138/2 (4 kg) |
| Driving rammer (weight) | 35-T0137/3 (13.5 kg) | 35-T0138/3 (16 kg) |
| Total weight approx.: | 15.5 kg | 24.5 kg |
All parts can be purchased individually
California Bearing Ratio Apparatus Motorized
California bearing ratio apparatus (motorized) :-

With Proving ring & dial Gauge

ASTM D 1883,

The C.B.R. Method is used for finding the relative bearing ration and expansion characteristics of soil of base, sub base and sub grade for the design of roads, pavements and runways. Test can be made on all types of soils including sand, gravel, crushed stone etc. C.B.R. test is used extensively for selection of materials and control of sub-grades.

The procedure of test is very simple. A 50mm dia penetration piston is forced in the test soil and loads required for the penetration to penetrate different depth are recorded by means of a proving ring fixed to the penetration piston assembly and a dial gauge.

CBR Load Frame 50kn Electrically operated Two Speed

Standard accessories:
CBR Mould
Perforated Base Plate
Extension Collar 150mm
Spacer Disc
Annular Surcharge Weight
Slotted Surcharge Weight
Perforated Plate
Metal Tripod
Cutting Collar
Rammer 4.89kg
Proving Ring with dial gauge
California Bearing Ratio Testing Apparatus - Field Type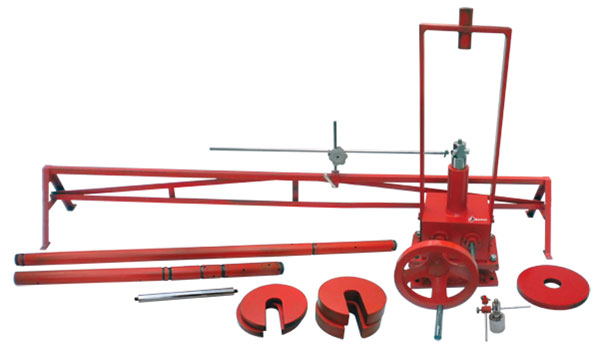 Item Code: In recent years it has become important to know C.B.R. Values in -situ. It is useful in determining the load carrying capacity in the field when in -place density and water contents are such that the degree of saturation is 80% or greater, when material is cohesion less and coarse grained, such that it is not effected by changes in water contents and when the material has been in place for considerable time. The loading is effected by means of a mechanical load frame which can be fixed to the under side of a truck. Specifications : Mechanical screw loading jack, 10000 kg capacity with U -bracket and swivel head. Penetration piston, 50mm dia. Threaded at the upper end. Extension rods set consisting of 2 lengths 5cm. 2 lengths 10cm., 1 length 30cn1., 1 length 50cm, and 1 length 100cm., used as spacers between the proving ring and penetration piston. The lengths are machined from steel tubing.

Load Frames are used to apply load on the test specimen. The capacity and speed depends on the requirement of a particular test.

Load Frames are used in C.B.R. Triaxial, Unconfined Compression Test etc.

Multitech Load Frames are available in various models. The rate of loading is constant in electrically operated Load Frames and Load Frames with multi strains are also available.


Laboratory Sieves
We are an eminent name, which is engaged in delivering Laboratory Sieves to our clients. The offered range of laboratory sieves is available in varied customized designs, shapes, colors and allied specifications as per the diverse requirements of esteemed clients. Along with this, the offered range of laboratory sieves is suitably checked on different characteristics to maintain its authenticity throughout the manufacturing process.
Accurate results
Sturdiness
Durable
Sieve Shaker Hand Operated
The company is well known in the market for the superior range of Sieve Shaker Hand Operated which we offer to the customers and they have been priced at very reasonable rates in the market. These products are very portable and they are light weight hence easy to carry. These products are operated using a hand wheel and it is very simple to use them. These products have been priced at very reasonable and affordable rates in the market.
Features -
Easy to use
Reliable
High quality
Sand Equivalent Test Apparatus
Carries upto 7 sieves of 150mm or 200mm diameter. The shaker is driven by a ¼ H.P. Motor through a reduction gear immersed in oil. The sieve table does not rotate but is inclined from the vertical axis and the direction on inclination charges progressively in clockwise direction. If the stop pin below the table is removed, the shaker can have a rotary motion. In addition to this gyratory motion of the table, there is an upward and downward movement ensuring that each square cm of the sieve is utilized. A pair of rods and a holder are supplied. The holder can be fixed on the top of the upper most sieve, and thus the sieve set in firmly held. Suitable for operation form 230 V, 50 Hz Single Phase AC Supply.
Moisture contents
Moisture contents at which soil has smallest plasticity is called limit. For determination purpose plastic limit is defined as the water content at which a soil will just begin to crumble when rolled in to a thread of 3mm dia.
Specification :
The complete set consists of one each :
Glass plate 20cm x 15cm having round ends
Brass or stainless steel rod 3mm dia x 150mm long
Flexible spatula 15 cm
Set of 6 moisture containers
Porcelain basin 150mm dia
Plastic wash bottle 500ml
Note: Glass Plate size 500 x 500 x 10mm can be supplied at an extra cost.
Shrinkage limit
Shrinkage limit is the maximum water content at which a reduction in water content does not cause an appreciable reduction in volume of the Soil Mass. At shrinkage limit, on further reduction in water, air enters in to the voids of soils and thus keeps the volume constant. The apparatus can be used to determine shrinkage limit and to calculate other shrinkage ratio, shrinkage index and volumetric shrinkage.
Specification
Set consists of one each :-
Porcelain evaporating dish
Shrinkage dish
Glass cup
Perspex plate with three metal prongs
Flexible spatula 100mm
Glass cylinder
25ml x 1ml, supplied without mercury
Casagrande Method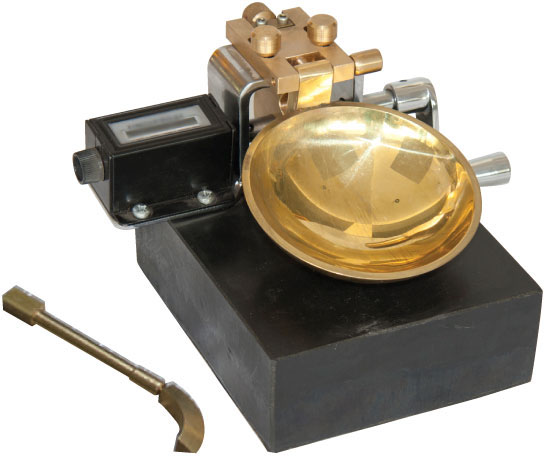 Casagrande method in mechanical form is known as liquid limit method and has been in use for soil mechanics for a number of years. The liquid limit data of soils is useful to correlate mechanical properties of soil, such as compressibility and lower shear strength. Liquid limit is the water content at which soil passes from zero strength to an infinitesimal strength, hence the true value of liquid limit cannot be determined. For determination purpose liquid limit is that water content at which a part of soil, cut by a groove of standard dimensions, will flow together for a distance of 1. 25 cm under animpact of 25 blows in a standard liquid limit apparatus. The soil at the water content has some strength which is about 0. 17 n/cm. Sq. (17gms/sq. Cm. ) at this water content soil just passes from liquid state to plastic state.

Specifications: it consists of a brass cup held on an adjustable bracket. The cup can be adjusted for a fall of 1cm and can be raised and dropped on a rubber base of standard hardness by cam action. Complete with one case grande grooving tool, one astm grooving tool and a height gauge block (type a of is 9259)
Cone Penetrometer
We offer a wide range of very high quality Cone Penetrometer at a very affordable market price. These products are manufactured using very high quality raw materials that are sourced from very reliable vendors. These products undergo various sets of quality testing at each level of its production to ensure superior quality and flawless performances. We believe in effective and timely delivery of product once ordered by our clients.
Features:
Dimensional accuracy and compact size
Durable and long lasting performances
International quality
Reasonable price
Specifications:
Liquid limit falls below 25
Plasticity index between 4 and 7
It meets the requirements of IS-2720 Part V
High Speed Stirrer
High speed stirrers are widely used in laboratories for blending laboratory test chemicals and materials. Though it is a high speed stirrer, it is fitted with a mechanism to withstand variable speeds like low, medium and high speeding parameters. The high speed stirrer is made up of a stand that is attached with electric motor to supply power to the device. Dispersion vessel rests on the stand of the stirrer.

We manufacture high speed stirrers that are made with mechanism designed to give high performance and match the industrial quality standards. Along with laboratory use, high speed stirrers are also used in other industries like the food, dairy, print, pharmaceuticals, cosmetics and ink.

Some of the salient features of our high speed stirrers are:
Made out of premium quality materials that makes is durable
Vessels attached to the stirrer are made out of high quality stainless steel which is rust free
Equipment is cost effective and give high level of performance.
Consolidation of clay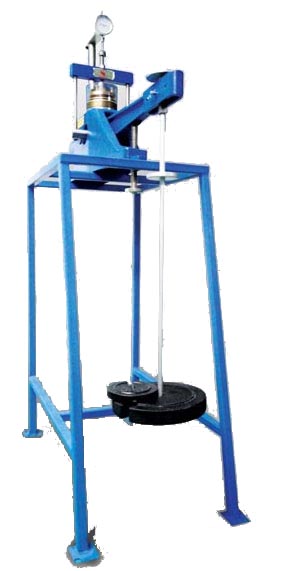 Consolidation of clay deposits leads to distress in buildings such as cracks and failures. Consolidation is the reduction of volume of soil due to expulsion of water from its pore space caused by sustained loading. This phenomenon is time dependent. The one-dimensional consolidation test performed on an undisturbed sample of clay is useful for understanding the history of the soil deposit. The test results can be used for calculating the settlement of structures built on clayey soil.

The standard outfit comprises fixed ring type of consolidometer cell for testing specimens 60 mm dia x 20 mm thick, but the unit is so designed that specimens of varying sizes from 50 mm dia to 100 mm dia can also be tested. Besides, the same loading unit can be used with floating ring consolidometer cells, which can be supplied at extra cost. The standard outfit is supplied with a set of weights to give a total pressure of 10 kg/cm2 (besides a seating load of 0.05 kg/cm3 on the specimen), but an additional set of weights are required to reach the full capacity of 20 kg/cm2. The necessary accessories to perform the permeability test of the 'Varying Head' type can also be provided at extra cost. The outfit is also available as three-gang or six-gang in which three/six consolidometers are mounted on a single frame. The consolidation may be measured by the conventional dial gauges or using the transducers and electronic readout unit in Digital Models.


Offering Direct Shear Apparatus
Hand Operated IS : 2720 (Part XIII)

The unit confirms to IS2720. It has a hand operated horizontal loading system for shearing the specimen. Hangers are provided for creating normal stress.



It comprises :-
Shear box assembly, 60 mm square, complete with a U-bracket, guide pins and spacing screws, made of brass.
Gripper assembly consisting of two plain grid plates, two perforated grid plates, one base plate and one loading pad, all made of brass.
Two porous stones, each 6 mm thick, fitting the shear box
Shear box housing of brass, complete with two ball roller strips.
Loading unit with normal loading of 8kg/cm2 on 60 mm square specimen.
Specimen cutter for a specimen size of 60 mm x 60 mm x 25 mm.
Set of weights to give a normal stress upto 3 kg/cm2 through lever, comprising 4 of 0.05 kg/cm2, 1 of 0.1 kg/cm2, 1 of 0.2 kg/cm2, 3 of 0.5 kg/cm2 and 1 of 1 kg/cm2.
Optional:
Sand Equivalent Value
4 Plastic Measuring cylinders
1 Carrying case
1 Weighted foot assembly
1 Irrigator tube
1 Rubber tubing complete with pinch clip
1 Syphon assembly, with 5 litre polythene bottle
1 Funnel
Accessories
Syphon Assembly,with 5 litre polythene bottle required.Supplied without rubber tubing
Calcium Chloride 2.5 kg
Formaldehyde, 40% solution, 2.5 litres
Glycerol Analar 2.5 kg
Permeability Machine
As the name suggest, universal permeability machine is used on all types of soils such as clay and sand for both constant head set and falling head set passing through studies. The device is made up of 9 glass tubes of different thickness along with a bore tube that manages the overflow of fluids when in continuous testing process.

We manufacture universal permeability devices to match globally acclaimed standards. The device is fitted with various functions to match the market requirement.

Some of the features of our universal permeability device are:

Made out of premium quality raw materials that make them long lasting
Available in different sizes and specifications
Designed to make easy to understand and use
Relative Density Test Apparatus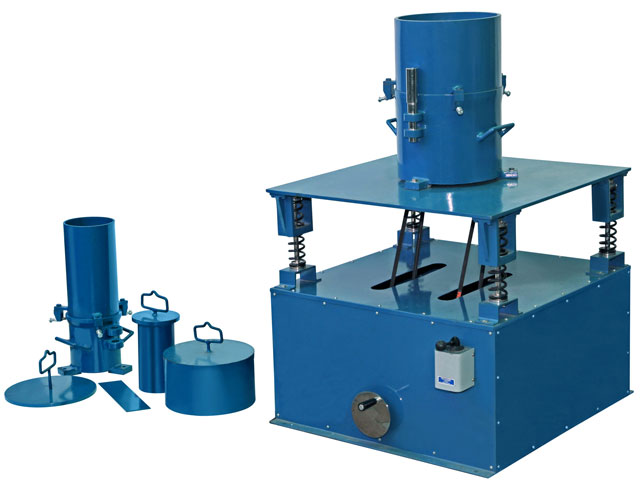 The equipment is used for the determination of the relative density of cohesion less free draining soils and meets the essential requirements.

the equipment consists one each of: vibratory table, with a cushioned steel vibrating decks about 75cm x 75cm. It has a frequency of approximately 3600 vibratory table, minute under an 11. 5kg load. Amplitude is variable in between 0. 65mm in step of 0. 05 to 0. 25mm, 0. 25 to 0. 45 mm and 0. 45 to 0. 65mm. Suitable for operations on 415volts, three phase supply. Cylindrical metal mould weight's 3000ml capacity. Guide sleeve with clamp assembly. Surcharges base plate for mould. Handle for surcharge base plate. Surcharge weight. The total weight together with surcharge base plate and handle is equipment to 140 kg. /sq. Cm. For mould. Cylindrical metal mould weight's 15000 ml. Capacity. (total weight together with the above mould & surcharge weight is equivalent to 140 kg/sq. Cm) dial gauge 0. 01mm x 50mm travel. Extension piece 25mm for dial gauge

Universal Extruder Frame Hydraulic
The extractor frame is used for taking out soil samples compacted or undisturbed, from 100mm dia and 150mm dia cylinders such as Core Cutters, Proctor moulds, C.B.R. moulds etc.

SPECIFICATION : It consists of a 50Kn capacity hand operated, hydraulic jack mounted on a suitable frame. Two plungers, one for 4"/100mm dia and the other of 6"/150mm dia moulds are supplied Height of thrust plate is adjustable. ACCESSORIES : Set of plungers adaptors and thrust plates for 38mm, 50mm and 75mm dia specimen. NOTE : ESTE 3039 also in motorised model.
Designed to extract specimens
Designed to extract specimens from almost every type of sampling tube and mould used in solid engineering laboratory or in the field. It can be mounted vertically or horizontally as desired. It has an unique feature that three 38mm dia sample.

SPECIFICATION:

Comprises of a frame designed for screw jack operation, one each of the adaptors for 38mm, 75mm, 100mm, 150mm dia meter specimens and a stand to obtain simultaneously three 38mm diameter samples from one 100mm diameter sample. The adaptor plate which slides along the slotted support can be claimed at any desired position by means of locking nuts. Besides this, the tube or mould can be held in position by raising the tube guides and held in position with locking screws. The lead screw movement can be stopped at any predetermined position by tightening the lead screw collar. Plunger adaptor for 200mm dia samples. Adaptor plate with 200mm dia hole and device to extract b number 38mm dia samples.

Sampling Augers
We are instrumental in manufacturing and offering a wide gamut of Sampling Augers. These augers are manufactured using quality approved material employing latest tools and techniques. We make sure that our entire range of augers are designed in compliance with international quality standards. To meet the distinguish needs of our clients, we offer these products in various sizes, dimensions and other specifications at an affordable price.
Features:
Sharp edges
Robust construction
Easy to use
Superb gripping
Light weight
Other information:
Augers are the drilling devices used for the sampling of distributed soil samples
These augers works by rotating its blades which causes the material to move out of the hole while drilling
Calibration tails are provided along with these drilling rods
Dynamic Cone Penetration Test Set
We are one of the prominent exporter and suppliers of a wide range of Dynamic Cone Penetration Test Set. These are extensively used to determine the relative strength or density or both of soil strata. Our devices are exporting using finest quality components as per international industrial standards. These are straightened with one cone, plain 50 mm base diameter and cone angle 60° C, one cone adaptor, guide pipe assembly with one end cap and one driving head with threads for 'A' rod coupling. Besides, these are also offered with Tripod stand 6 meter height with built in ladder with pulley arrangements. Drive weight 65 kg fitted with chain. Our devices are acclaimed for their consistent performance and longer service life.
Features:
Generally it is used up to the depth of 15 m
Long lasting
Optional Accessories: 'A' drill rod, 1.5 meter long, one side male thread and the other side female.
Provides best results when performed for deeper soil
Specification:
| | |
| --- | --- |
| Cone angle | 60° C |
| Plain base diameter | 50 mm |
| Depth | Up to 15 m |
| Drill rod | 1.5 meter long |
| Weight | 21.53 kg |
| Drop height | 800 mm |
Infra Red Moisture Balance
Our customers can avail from us a wide range of Infra Red Moisture Balance. These are used to measure the level of moisture present in various products. Also, this helps in making transactions based on weight, due to which the process is followed in a variety of industries. This includes industries like Paints, Food and Beverages, Cosmetics and R&D Laboratories & various others.
Specification of this instrument:
Infra red moisture balance with solid state, electronic regulator capacity : 5 gms, 10gms & 25 gms (any variant).
IN Situ Vane Shear Test Apparatus
The apparatus is designed for conducting in situ vane shear test from bottom of a bore hole in saturated cohesive deposits for determining their in place shearing resistance. The equipment consists of a torque applicator assembly mounted on a base, a gear wheel, which is marked in degrees, holds a torque ring and is geared to a crank, the torque ring is a split ring & deforms as torque is applied & the deformation is indicated by a dial gauge. A calibration 2 chart to convert dial gauge readings to torque force in kgs/cm is supplied. A pointer is provided For registering the rotations of the vane, a detachable stand is provided to anchor the instrument an attachment to securely hold the string of rods is provided the equipments comprises of the following :
Torque applicator assembly capacity 2000kg/cm with split proving ring & dial gauge 0.002 x 5mm complete with stand.
Vane ( with vane rod ) 37.5mm dia x 75mm high 1 no.
Vane ( with vane rod ) 50.0mm dia x 100mm high 1 no.
Torque rod ( square cross section) 0.6mts long 1 no.
Rods quick couplind type, 1 mtr. long 1 no.
Rods quick coupling type, 1 ½ mtr. long 1 no.
Dummy rod, corresponding to 37.5mm dia vane 1 no.
Dummy rod , corresponding to 50.0mm dia vane 1 no.
Marsh Cone
This cone is used to find out viscosity of bentonite slurry and similar material. The marsh cone is 6 inch in diameter at the top and 12 inch long, and tapers to join a tube 2 inch long and 3/16 inch inside dia. The capacity of the funnel is 1500cc. Time in seconds required to flow out 1000cc of slurry from cone is measured as funnel viscosity of the material.
Plate Bearing Test Apparatus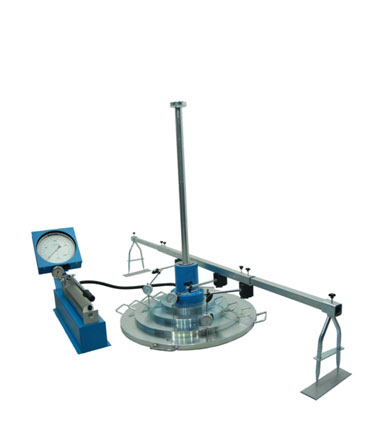 We are engaged in manufacturing and supplying Plate Bearing Test Apparatus, which is used for estimating the bearing capacity of shallow foundations in situ and for the design of flexible pavement. This test is a standard technique fro determining bearing capacity of soils and is used in agriculture, defense, education, geophysical/ seismology, irrigation and mining industry.

Dynamic Cone Penetrometer (DCP) It is used for rapid in-situ measurement of the structural properties of existing road pavement constructed with unbound materials.The unit incorporates an 8 Kg weight having a drop of 575 mm, fitted to end of the shaft is a 20 mm diameter cone. With the standard DCP measurements can be made down to a depth of approximately 850 mm.Reading are taken after a set number of blows, changing the number according to the strength of layer being penetrated. For good granular bases,readings every 5-10 blows are satisfactory, but for weaker sub-base layers and sub grades, readings every 1-2 blows may be appropriate.

The DCP requires Three operators, one to hold the instrument in a vertical position, one to raise the hammer and let it fall and one to record the results. A typical test takes only a few minutes, providing a very efficient method of obtaining information, which would otherwise require the excavation of test pits. Where pavement layers have different strengths, boundaries can be identified and layer thickness determined.Supplied complete in a nice Wooden Carrying Case.
Soil Hydrometer
Used for grain size analysis of soils where more than 10% of the material will pass through 75 microns B.S. sieve. Manufactured from clear transparent glass having uniform clarity throughout the upper end on which density scale is engraved. The scale range is 0.995 to 1.030 0 density (gms./cc) at 27oC smallest division on the scale is 0.0005. NOTE : Hydrometer for other liquids also available.
Split Spoon Sampler
This is used for standard penetration test for determining penetration resistance (N valve) of soil which can be related to unconfined compressive strength. Penetration resistance (N value) of soil is determined by giving a number of blows with a 65 kgs weight falling through a given distance of 75cm required to penetrate the assembly to a depth of 30 cm when properly seated on the ground. The sampler is made from a steel tube split length wise & held together by a head fitted with a ball check valve & a hardened steel shoe in size cutting edge of 35mm dia. The sampler is 35mm i.d. & 50.8mm in outer dia & 508mm long. One adopter to connect 'A' type drill rods is also supplied. SPARES : Body of split spoon sampler, shoe of split spoon sampler, head of split spoon sampler.
Standard Penetration Test Kit
Consists of Drive Weight, 65 kg, fitted with chain.
Guide Pipe Assembly, fitted with a driving head on one side having standard "A" drill rod thread & a cap on the second side. Drive weight falls freely through a height of 75mm
Tripod stand,6 meter high connected by a tie bolt. Each leg is made of three part for easy transport. Complete with pulleys and stairing arrangements.
" Tripod stand 5 meter long Each leg is made of two parts. Complete with pulley & stirring arrangement.
" Pulley Spare.
" "A" Drill Rod 1 meter long.
" "A" Drill Rod 1.5 meter long.
" "A" Drill Rod 3 meter long.
Augur are used to collect disturbed solid samples at reasonable depths for laboratory tests Augurs are available in two types and each in different sizes. Blade Type (Post Hole type) Each Augur outfit consists one each of augur head, one meter long rod, Tee piece and handle. Depths of excavating can be increased by using additional extension rods.
Auger Head - 150mm diameter
Auger Head - 100mm diameter
Auger Head - 75mm diameter
Auger Head - 50mm diameter
Auger Head - 38mm diameter
1 meter long for 150mm auger.
1 meter long for 100mm/75mm/50mm/38mm
Swell Test Apparatus
It is designed to determine the swelling pressure developed by soil specimens moulded to desired densities at knows moisture contents when soaked in water. The load applied to restrain the swelling is transferred to a load measuring proving ring through a perforated swell plate and a load transfer bar. The proving ring is attached to the lead screw of hand operated load frame. A soaking tank is provided for saturating the specimen and the base of the mould has channels and radial grooves with connecting holes it consists one each of :
Load Frame, Hand Operated, Capacity 50 KN (5,000 kgf)
Mould, 100mm dia x 127.3mm height (1,000ml volume) with base plate and collar
Proving Ring, with integral boss, high sensitivity 2.5KN (250 Kgf) capacity
Dial Gauge , 25mm travel, 0.01mm least count Lid & receiver in G.I. frame for 300mm dia x 450mm dia sieves
Perforated swell plate, 100mm dia x 16mm thick
Spencer, 100mm dia x 12.7mm thick
Pair of Porous stones, 100mm dia x 12.7mm thick
Load Transfer Bar
Steel Ball
Swell Test Apparatus :ESTE-6710. Soaking Tank, 250mm dia x 210mm high
Unconfined Compression Tester
Unconfined Compression Tester Proving Ring Type (Motorised) This is with the added advantage of a motorised drive permitting a choice of three constant rates of stain.

SPECIFICATION : Comprises a screw operated load frame, cap.5000kg with a gear box and motor drive giving 1.25, 1.5, 2.5mm/min. Rates of strain, a pair of cone seating, adaptor for proving ring, and stain dial gauge bracket. Supplied with one pair of male/female coning tools for 38mm dia samples but without ring and dial gauge. Suitable for operation on 230 V, Single Phase A.C. Supply. ACCESSORIES : Coning tools in pairs (Male & Female) for samples having diameter 38mm, 50mm, 75mm & 100mm
Static Cone Penetrometer
Static Cone Penetrometer Capacity for reaching greater depths and to facilitate easy and constant rate of penetration 1 to 2.5cm/sec of the cone this engine-driven Static Cone Penetrometer of 100 KN (10,000 Kgf) capacity is preferable. The equipment consists of a hydraulic pump driven by a Diesel Engine. The whole system is mounted on a tow able trolley fitted with pneumatic wheels. The pumping unit and ram are connected by means of flexible pipes through a direction control valve. The hydraulic ram moves on a two pillar stand mounted on a trolley
Penetration Cone, steel 60 cone angle, 10cm2 base area, with friction jacket One
Mantle Tube, 36mm uniform OD with sounding Rod working length 1 m Thirty
Load Measuring Head, with Automatic cut-off valve, and oil can without pressure gauges.
Pressure Gauge, 0-600 x 5 kg/cm One
Pressure Gauge, 0 100 x 1kg/cm One
Trusses Two
Screw Anchor 45 cm Six
Screw Anchor 30 cm Six
Screw Anchor 20 cm Six
Screw Anchor Rod with cone Six
Driving handle for Screw Anchor One
Extension Pipe for Handle Four
Clamping Screw with Nuts Six
Extractor Tube with Connector One
Tool Box One
Tarpaulin Cover One